DBCT Teams Triathlon Relay
BEGINNER TO EXPERIENCED
Mackay Aquatic & Recreation Complex
Race Categories – Triathlon
Distances – Enticer & Sprint(Teams Only)
This is a teams only event to promote healthy workplaces and encourage team mates, work colleges & clubs to band together and get active.
Corporate Teams (Senior Awards only)
-Male
-Female
-Mixed
Club/Schools Teams (Junior Awards)
-Male
-Female
-Mixed
Mates Teams (Junior & Senior awards)
-Male
-Female
-Mixed
All teams must have a min of 2 & a Max of 3 members who each race 1 or 2 legs individually
Male, Female & Mixed Awards
A Junior may compete in a Senior Team, however the team will then automatically be in the Senior catego
Mini Kids-Distances are based on Triathlon AUS Age Limit Restrictions on this page.
Enticer – 300m/8km/2.5km
Sprint – 600m/16km/5km
CQ Multisport is offering 8 week training programs for Swim, Bike & Run, so get on board early to take full advantage of this offer and be at your best for your team mates!!
TEAMS ENTRIES
Please note that additional Triathlon Australia One Day Racing Licence fees apply to each team member that does not hold a Triathlon Australia Annual Standard or Premium Membership at the time of the race
ENTICER
TA ODL FEE $3.50 per team Member
SPRINT
TA ODL Fee $10.00 Per Team Member
What, When & Where on Race Day?
Mackay Triathlon Club welcomes all triathlete levels, and we're more than happy to help newbies throughout our races. Whether it's your first or last race, we've put together a step by step guide as to what you will have to do, where and when on race day.
LATE ENTRIES
Entry is Via Online Registration only- no entries well be accepted Saturday or Sunday on race weekend
PARKING
We suggest you park in the CQU Engineering carpark & walk down to the pool as the access road to the Pool/Track carparks will be limited from 8.15am as Children will be using the Road for their cycle legs from 8.15-8.55am
This will also make your exit faster as again the road will have limited access as Team cyclists may still on the course if you finish your race early
CHECK IN FROM – 7.00am
Pool opens at 8.00am
All access to & from the pool will be via the main entrance only
There will be no access via the Transition chute before or during the race
If you wish to do a warm up prior to your race start, please feel free to do so, just ensure you are out & at the Compulsory race briefing for your race
In your race kit you will be issued:
Event Towel for each team member
Swimmer
Event Swim Cap
Number Tattoo (please apply to right upper arm or right forearm if wearing sleeves)
Timing Chip(to be worn on your left ankle) – must be transferred to each team member before they stat their leg of the race
Cyclist
Bike Number (please attach to your seat tube)
Helmet Number (place on the front of your helmet)
Runner
Race Number (must be worn on front for run leg only)
Timing Chip – It is essential that you return the timing band at the conclusion of the event to the timing team. If the band is not returned a fee of $50 will be charged.
TRANSITION OPENS 7.00am – 8.00am
– If you arrive early, you will be expected to assist in setting up!
– A TQ official will check your bike for safety.
– You must have your number attached to the seat post
– Have your helmet on, securely fastened with your helmet sticker on the front
– Arrange your gear on the chaining side of your bike.
– Bikes will be racked by the back wheel in the ITU style racks or by the seat (traditional racks).
– Please leave a 2m space between all bikes, a TQ official will be available
– Check your tyre pressure
– No Bags are to be left in the transition area-they will be removed by the TQ official pre race if left
– There is a baggage tent next to the timing tent where your items will be secure for the duration of your race.
– Once you have dropped off your bike and race items, please move out of the transition area
RACE BRIEFING – 7.45am
A verbal briefing will be held prior to race starts Sunday morning, prior to race start at. This briefing will have all the information and rules required to complete the race, including how many laps are required for each race leg.
START TIMES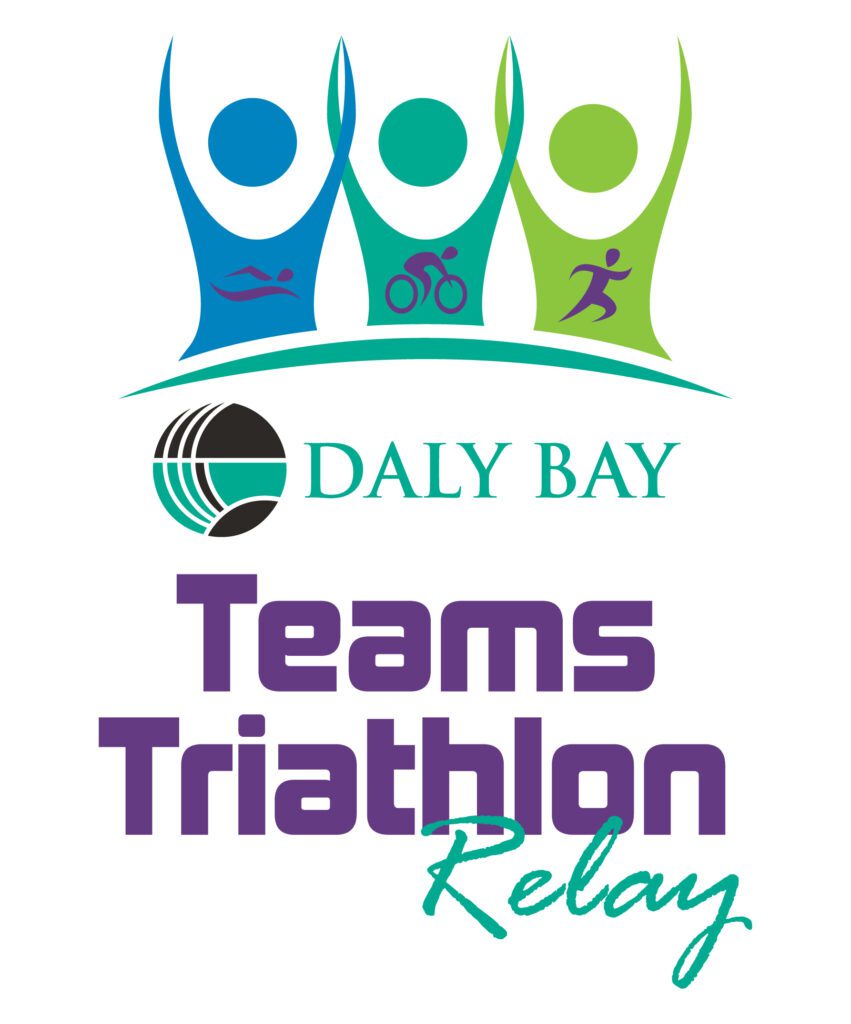 Mini Kids
Race briefing and Course details 7.45am –
Racing at 8.00am
Enticer
Race briefing and Course details 8.45am
Racing at 9.00am
Sprint
Race briefing and Course details 8.55am
Racing at 9.10am
Swim Leg
Enticer start from middle lanes
Sprint start from end lanes
Follow the arrows marked at the end of each lane for instructions
Be sure to stay to the left of the lane at all times to allow faster swimmers to pass on the right.
Swim Aids-are all able to be used for the ENTICER only, no swim aids are permitted in the Sprint Race
Please note that if you use swim aids, your team will not be eligible for a Placing
Swim to Bike Transition
Swimmer will exit the pool and run/walk to the bike transition area where their team member will be waiting for them, it is important to NOT cross the timing mat until the timing chip is transferred to the cyclist, if the swimmer is also the cyclist,they can run straight to their bike.
Competitors try to do this as quickly as possible, taking off a wet suit (if applicable) and racing in swimmers, tri suits or tri kits.
Always clip on your helmet before taking your bike off the rack.
Bike Exit
Jog or walk your bike to the bike exit where, once your bike is over the mount line, you can get on you bike. Take care of other competitors. It is often wise to move down the road ahead of the competitor traffic at the line to get yourself some space!
Bike Course –
Our race is sanctioned and we have the assistance of  volunteers on course. Please stay left unless overtaking and be always aware of any parked vehicle, pedestrians or resident's vehicles which may be on the course. Please pay attention to race officials at all times.
You must follow all road rules
Bike to Run Transition
You must hop off your bike before you cross the mount line. Return bike to your rack and run to your team runner, transfer the timing chip to your runner.
If your cyclist is also your runner, they must cannot remove their helmet until they have racked their bike, they can then remove their helmet, change shoes and commence the run leg of the relay
Enticer will complete 1 lap of the course, Sprint x 2 U-turning before they enter Boundary road to commence their 2nd lap.
Run Exit
A sign clearly marks the run exit but if you are ever confused please ask a transition official.
Run Course
There is a drink station at the the commencement of the run leg.
Enticer will complete 1 lap of the course, Sprint x 2 turning at the drink station to commence their 2nd lap
Finish
The best part of the race! The timing transponder mats are underneath the finish arch, and your foot (with the band attached) must pass over these plates. Once you cross the line proceed through the chutes towards the marshals who will remove your timing band.
We encourage all team members to wait on the track for their runner and join them on the last 100m of the run and cross the finish line together as a team for the finisher photo!
Recovery Area & Food Packs
Fruit and water recovery product will be available in the Recovery Area post race
The Presentations
Presentations will be held at the  Athletics track building once all teams are finished. Please join us in supporting the athletes.
Removing your bike from the Transition area
The transition area will be reopened again after the last competitor exits for their run leg. When you take your bike out of the transition area please ensure that you show both your ID wristband and your bike numbers to the officials at the transition exit.
Looking forward to seeing you at the Mackay Teams Triathlon Relay!